Planning to escape from the hustle and bustle life in Hong Kong? Anticipating a chill trip to Europe? Salzburg will definitely be your choice! Though we usually take a long trip across different border when it comes to traveling in Europe, here I have an idea to start with: 3 days in Salzburg, Austria!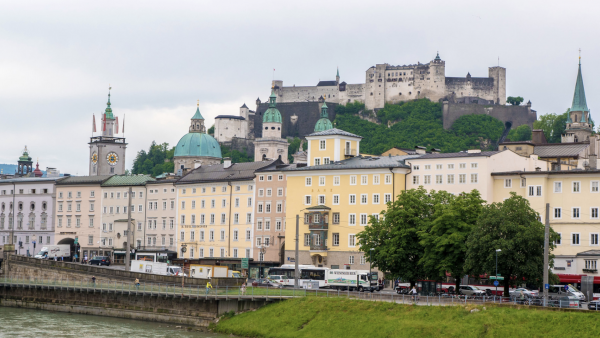 Here's how I spent 3 days in Salzburg, Austria.
Day 1: Arriving & Wandering
We reached Salzburg in early June on a bright and sunny day. We were immediately noticed the grandiose Salzburg Cathedral, the interesting statue of a man on top of a giant golden globe, and Hohensalzburg Castle up high on the hill.
 
Get the Salzburg Card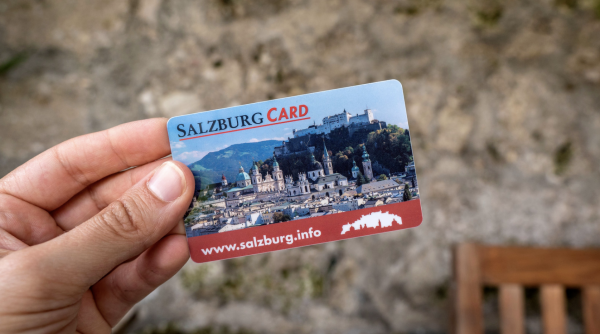 If you plan to spend some time in Salzburg, be sure to get your hands on a Salzburg Card. You can buy the card for 24 hours, 48 hours, 或 72 hours, depending on how much time you plan to spend there.
The Salzburg Card gives you loads of benefits. First, you receive free one-time admission to all city tourist attractions and museums. This includes Hohensalzburg Fortress, Hellbrunn Palace and Trick Fountains, Mozart's Birthplace, the Museum of Modern Art, and more.
You will also receive free transportation in Salzburg. While you might find yourself walking a lot in Salzburg, feel free to hop on a public bus to get around. Also, a river cruise with Salzburg City Cruises can be redeemed with the card. Cable railway transportation to Hohensalzburg Fortress, the Monchsberg Lift, and the Cable Car in Untersberg are also included with the card.
The prices for the Salzburg Card are very reasonable considering the benefits you get from ordering one. Plus, I loved not having to worry about admission tickets or transportation around time, so it also saved lots of time and hassle. I highly recommend getting one when you visit Salzburg.
 
Stroll Around Old Town
I always love wandering around a new place when I first arrive. After we settled in at our apartment, we set off and explored the pedestrian area of Old Town.
Salzburg has a very charming, small town feel. Take the time to roam up and down every narrow side street. If you're in the mood to shop, you might find some souvenirs or treasures along Getreidegasse, the main shopping street. There are also quaint cafes around every corner, and even shops selling traditional Austrian clothing.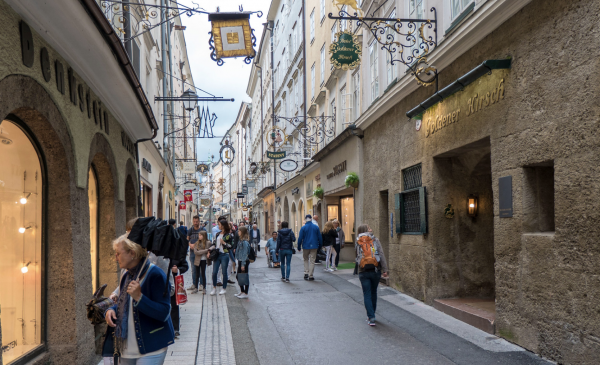 In Kapitelplatz, there's an interesting sculpture called Sphaera by Stephan Balkenhol. It's an ordinary looking man standing on top of a giant golden globe. While it's a very striking work of art, the artist leaves its interpretation completely up to the observer. As this square was right on the way back to our apartment, we passed by this 9 metres high sculpture several times daily.
Apparently, there's a tiny woman statue, made by the same artist, hidden elsewhere in Old Town. Unfortunately, we never found her (but we didn't look very hard). Maybe you'll discover the tiny woman on your travels!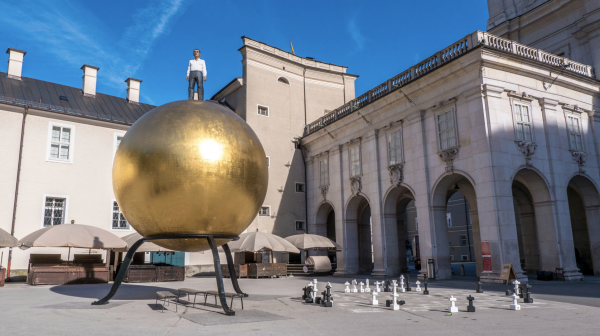 Salzburg Cathedral
I loved that we had a view of the Salzburg Cathedral's dome from the window of our apartment. I recommend you visit the inside of this beautiful and ornate cathedral.
The Salzburg Cathedral was first founded by Saint Rupert in 774, and it was rebuilt in 1181 after a fire. Then, in the 17th century, it was completely rebuilt in the Baroque Style (how it appears today).
Notably, Wolfgang Amadeus Mozart was baptized here a day after he was born, on January 28th, 1756.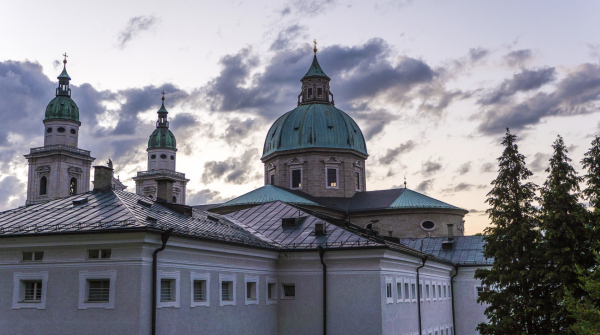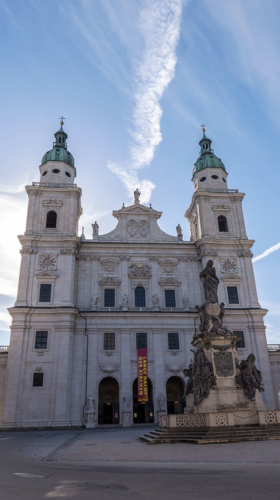 The three bronze gates at the front represent the three divine virtues of faith, hope, and love. They were added in 1957 to 1958. Above the three gates are three years: 774, 1628, 與 1959, which are three years that the church was fully built or renovated.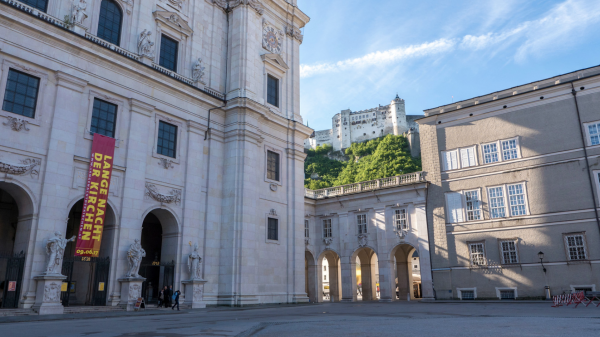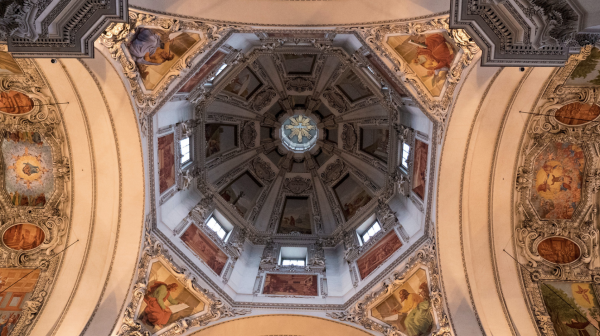 Lunch at Backwerk
Griesgasse 15,
5020 Salzburg
We were pretty hungry and wanted a quick bite to eat, so we picked up sandwiches at the BackWerk convenience store. There are assorted wraps and sandwiches, clearly marked as vegan on the shelf. Choose from a ranch tofu wrap, a guacamole wrap, a falafel wrap, or an avocado sandwich.
We brought these sandwiches back to our apartment and ate on the patio in the backyard, like a small picnic lunch.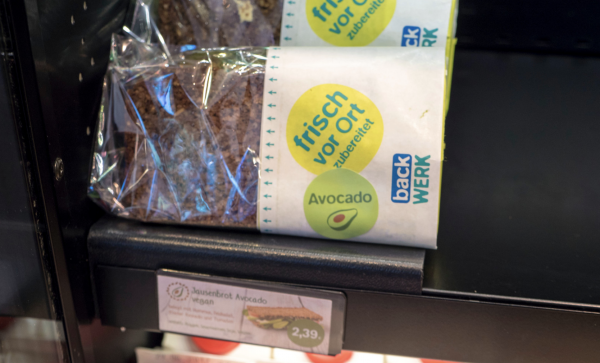 Across the River
We continued our walk across the river by using the Mozartsteg, an Art Nouveau pedestrian bridge. On the corner before you walk across, there's a small coffee stand called We Love Coffee. Stop for a cup of joe to go if you're feeling like a midday boost! And yes, they have plant-based milk for a latte or cappuccino.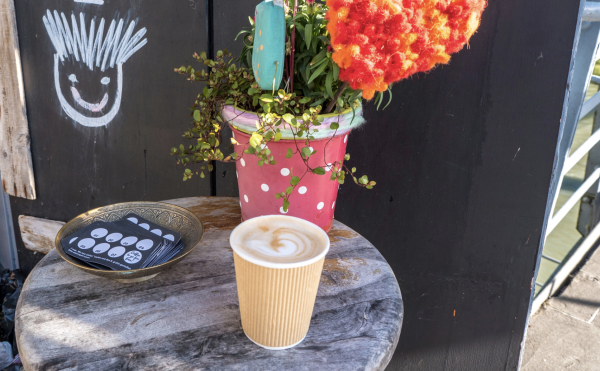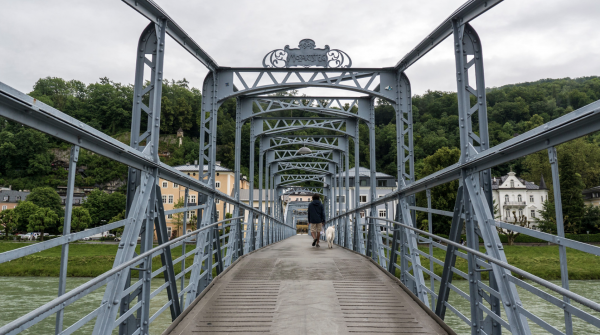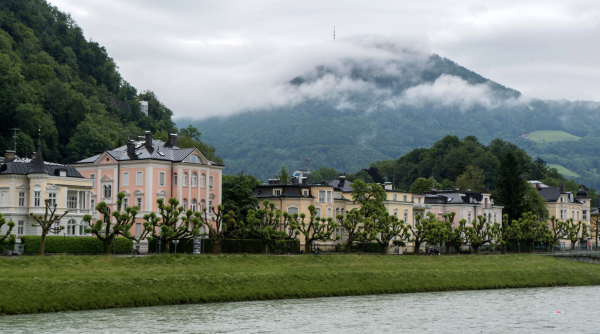 Take a walk up and down the Linzer Gasse, another pedestrian zone with boutiques and restaurants. On your way back, meander down Steingasse, one of the oldest streets in Salzburg. This street is a quiet retreat from the busier shopping districts.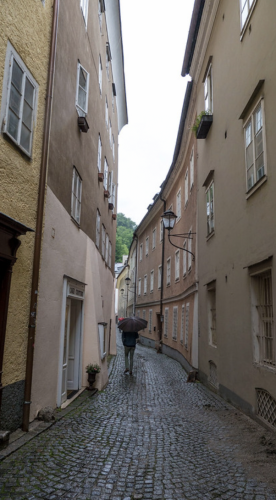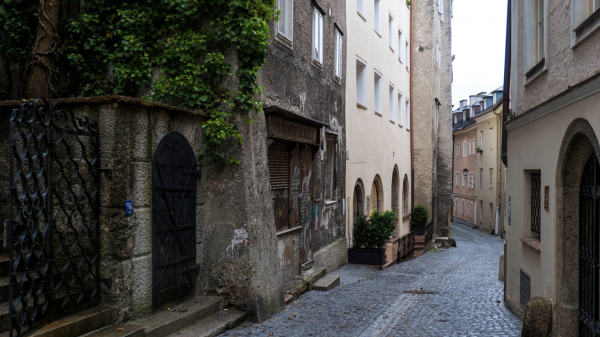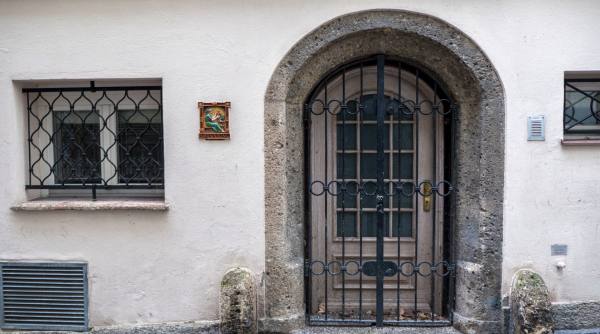 Now that you've walked all over Salzburg, you've probably got a good feel for this delightful city.
 
Takeaway Dinner From My Indigo
Rudolfskai 8,
5020 Salzburg
My Indigo has several vegan options on the menu, including a vegan curry with soy chunks, salads, and vegan sushi rolls. We brought back some curry and sushi rolls to eat at our apartment. There's also a small seating area inside should you wish to dine in. On another occasion, I also enjoyed a coffee here on their small outdoor patio facing the serene river.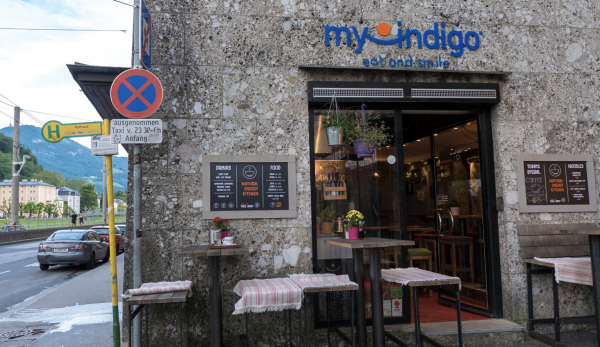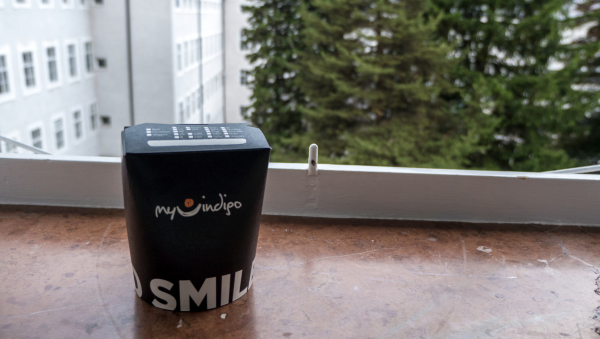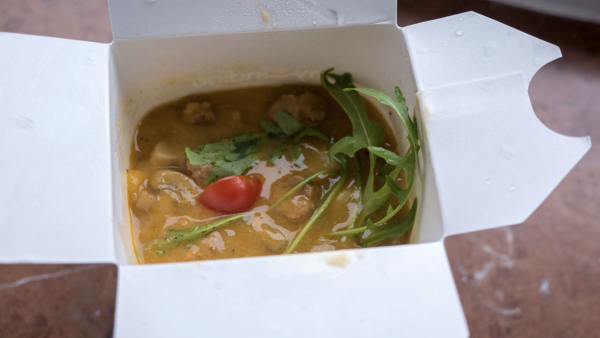 Day 2: Seeing the Sights
Now that you're all settled in, use your second day in Salzburg to check out some attractions. There are so many things to do in Salzburg, you surely won't run out of places to see. But first…don't go out on your adventure with an empty stomach!
On our way to breakfast, we crossed a different bridge that was covered with love locks. The Makartsteg pedestrian bridge offers scenic views across the river, and it's also a place to mark your everlasting romance.
 
Breakfast at The Heart Of Joy
The Heart of Joy is a vegetarian and vegan cafe serving up hearty and delicious meals all day. On the breakfast menu, there are a number of breakfast plates. We both ordered the "Vegan Delight", consisting of a soy latte, vegan ham, porridge with fruits, vegan butter, jam and spelt bread. What a nourishing way to start the day!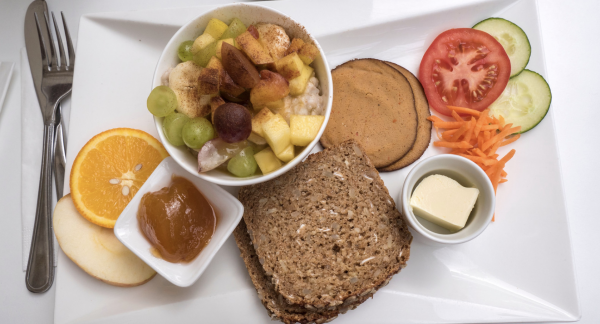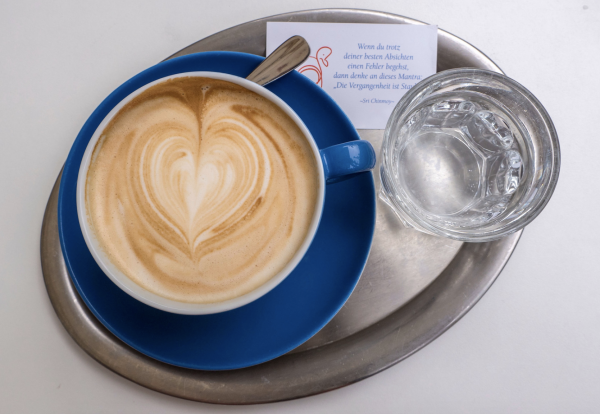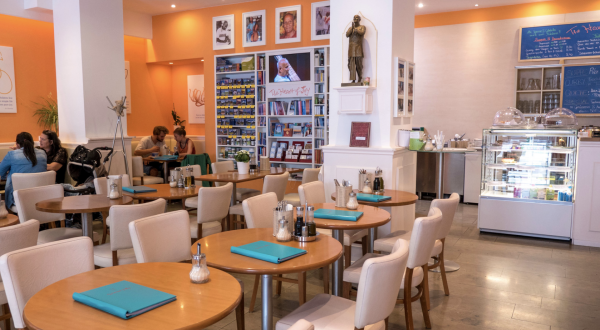 Mirabell Gardens
Would you like to visit the most delightful area of Salzburg? Not only is it tranquil, but it's also a free activity. The Sound of Music made Mirabell Gardens famous. Regardless of its notoriety in film, it's an exquisite garden with a rainbow of flourishing blooms, sure to brighten your day.
One of the wonderful things about Mirabell Gardens? It's open from 6:00am until dusk. If you're an early riser or you want to get an earlier start to your day, you can visit Mirabell Gardens very early in the morning and perhaps even have it mostly to yourself.
While we would have loved to have visited Mirabell Palace, it wasn't open when we were there. Next time, for sure! The palace is open on Monday, Wednesday, and Thursday from 8:00-16:00, and on Tuesday and Friday from 13:00-16:00.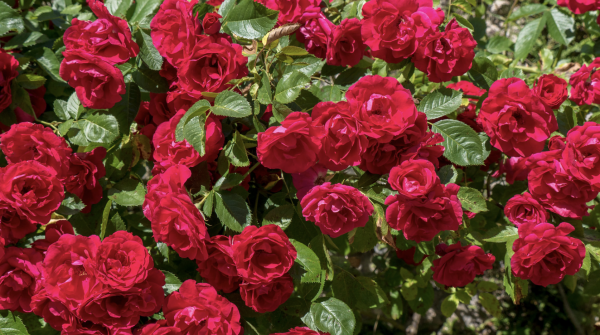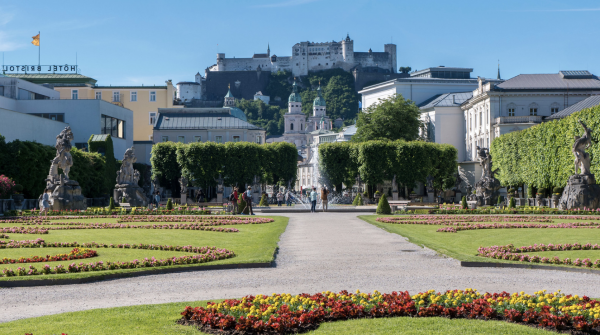 Hohensalzburg Castle
A trip to Salzburg isn't complete without a visit to Hohensalzburg Fortress. It's already featured in a few of the pics of I've posted here as the imposing castle up on the hill.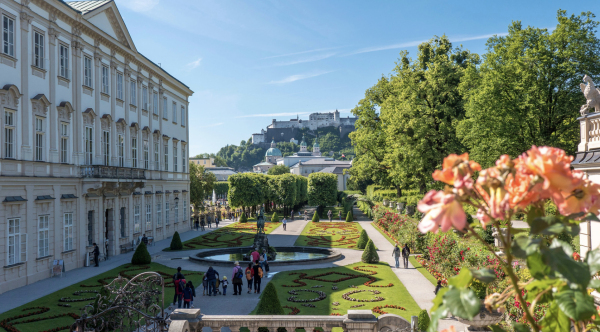 Hohensalzburg Castle, off in the distance, from Mirabell Gardens.
We rode a funicular up the hill and we were greeted by a lookout point. The views of Salzburg's Old Town and beyond are stunning. Justin and I paused here for a while to take in the beautiful scenery.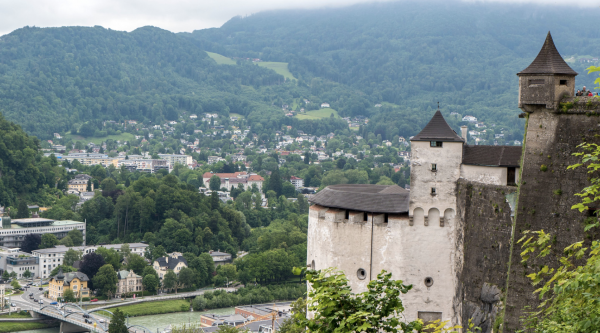 Next, walk through the interior of the castle itself until you eventually get to the top. When we visited, it started to pour rain exactly as we got outside at the very top of the castle! Thankfully, we had an umbrella and tried our best to shield ourselves while snapping a few pictures and admiring the view.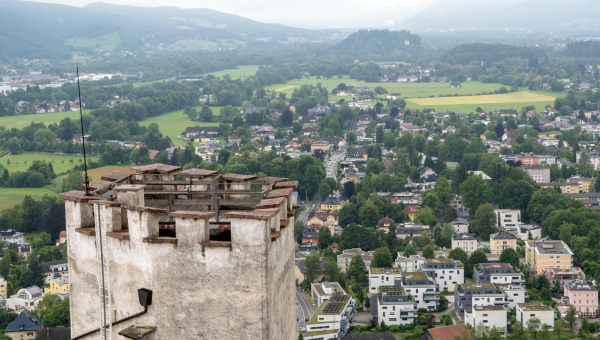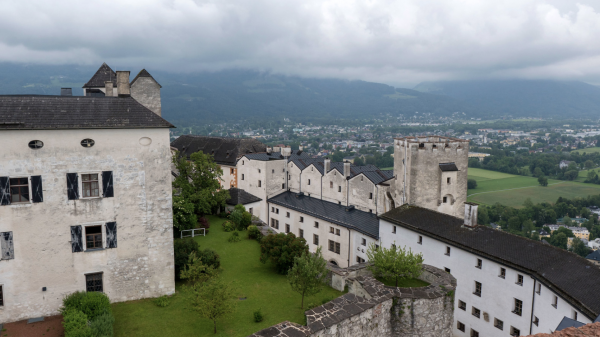 Once you come back down from the top, explore the grounds within the inner walls of the fortress itself. You can really transport yourself back in time here as the grounds are perfectly preserved.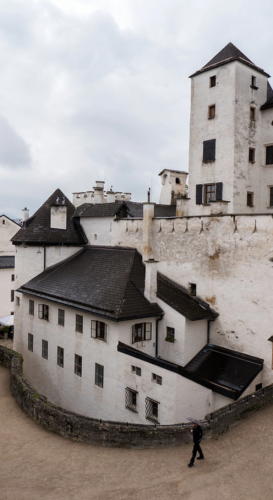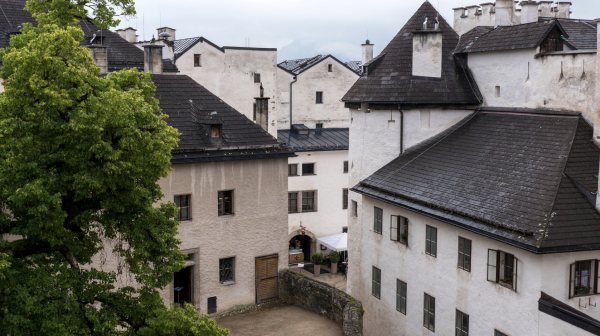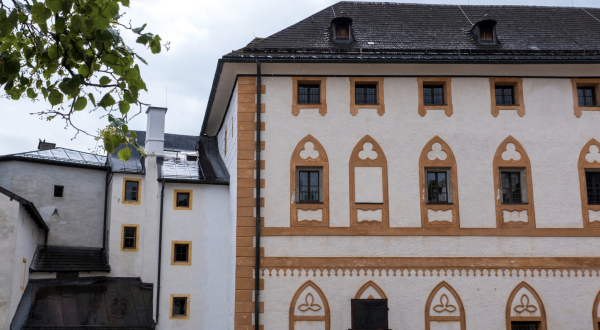 And a trip to the Hohensalzburg Castle wouldn't be complete without checking out the Marionette Museum! yes, there's a museum devoted to the art of marionette puppetry inside the castle itself. Salzburg has a rich history in marionette theatre, including one that offers performances to this date.
It's a small museum, but very cute and worth checking out. There are even a couple of interactive displays where you can try your hand at using a marionette for yourself.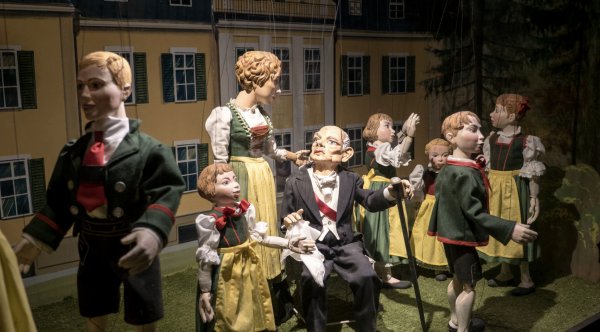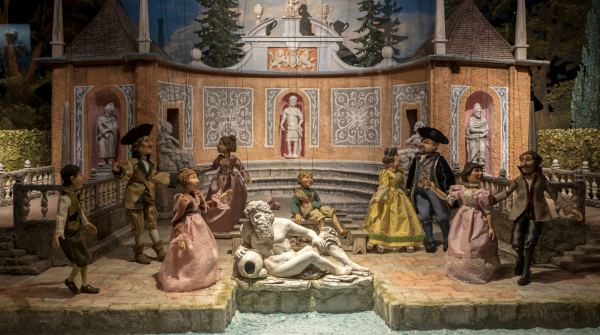 Oh! One final last cute touch at Hohensalzburg Fortress was the adorable little tunnel called Liebesgrotte. You walk into the small stone opening with your partner. As it says on the plaque, "One kiss inside the love grotto and your love will be everlasting." Of course, Justin and I had to smooch in the grotto!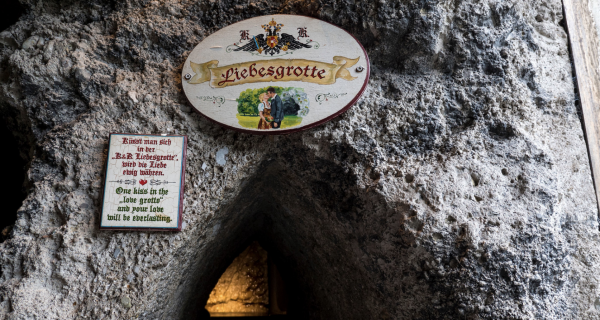 Lunch at Uncle Van
Lederergasse 1,
5020 Salzburg
After Hohensalzburg Castle, we hopped back across the river for lunch at Uncle Van. It's a Vietnamese takeaway restaurant, specializing in vegan-friendly ingredients and sauces.
Make your own rice or noodle bowls by checking off which vegetables, protein, and sauce you'd like. There are eight sauces that are all vegan. You can add several different vegetables and tofu for a complete meal. There are also two vegan soups available to order.
While Uncle Van is primarily a takeaway restaurant, there are a few tables inside and outside, although these have a limited availability. Thankfully, we were able to snag a spot outdoors. Uncle Van has an interesting location, down a narrow, partially covered side street.
My apologies for the food photos – it was a bit dark, plus Justin ate half of his before I took the picture!
After lunch, we wandered around a little bit more and stopped for a coffee near our apartment.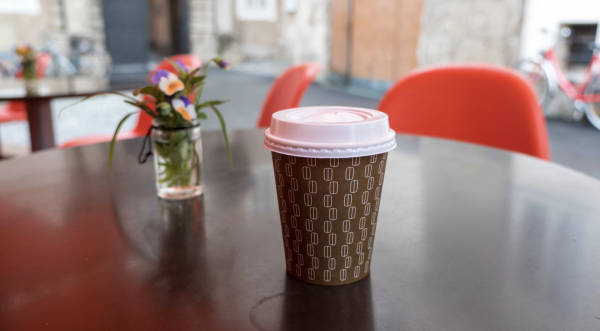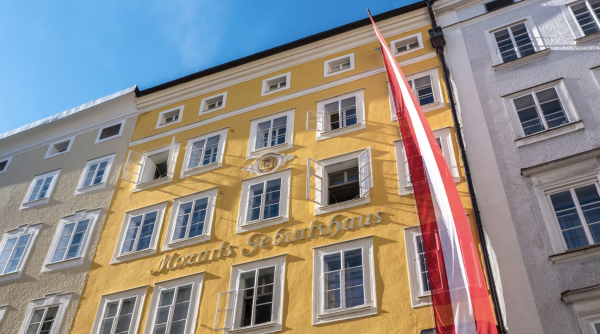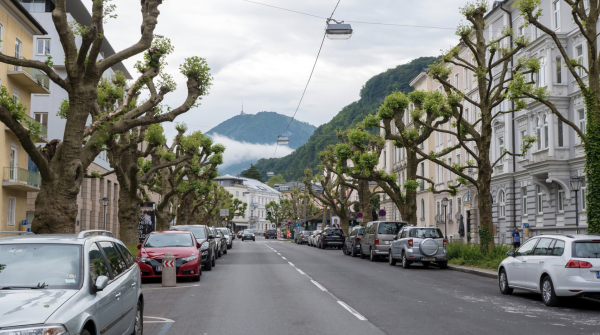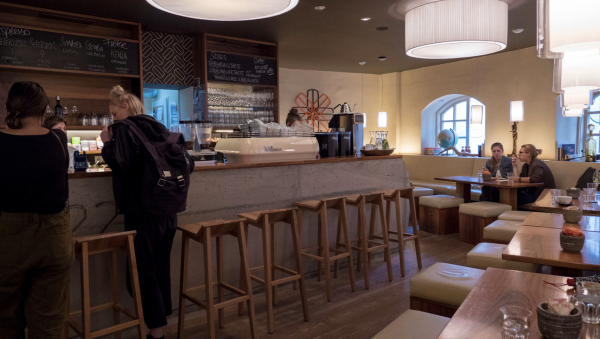 220 GRAD
Chiemseegasse 5,
5020 Salzburg
Salzburg Marionette Theatre
In the evening, Justin and I had reserved tickets to see a production of The Sound of Music at the Salzburg Marionette Theatre. We booked the tickets on their website in advance, and the tickets were speedily mailed to us in Hong Kong. Definitely book your tickets ahead of time because you don't want to miss this unique production show that you won't see anywhere else!
The Salzburg Marionette Theatre is included on the UNESCO List of Intangible Cultural Heritage. These marionette shows have delighted adults and children alike for decades. Seeing a production of The Sound of Music was perfect to see in Salzburg.
It's easy to become enraptured by the production and forget that the characters are even puppets being pulled by string. The sets are quite elaborate, and the marionettes themselves are very detailed in their expressions and movements. The puppeteers are highly skilled and I don't even know how they pull off such orchestrated choreography so eloquently!
It's important to note that there is no photography or videography allowed inside the theatre. I only snapped a couple of pictures inside the theatre before the show started.
We would have never guessed it ahead of time, but this was one of our favourite things to do in Salzburg.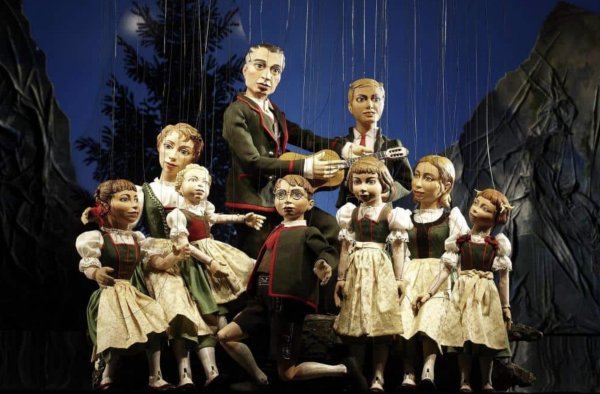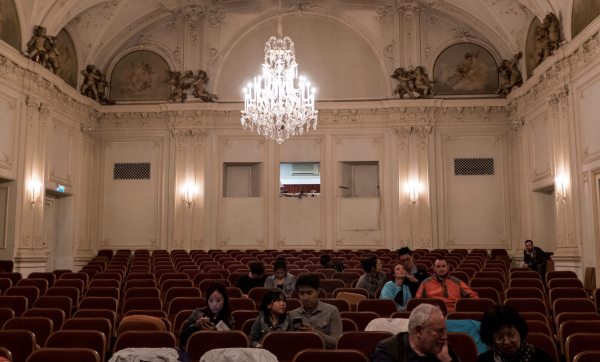 Late Night Pizza Run
Organic Pizza Salzburg
Austria, Franz-Josef-Straße 24A,
5020 Salzburg
After the theatre production, we were starving and opted to grab some pizza to go. Thankfully, Organic Pizza Salzburg was right on the way back home. They focus on fresh ingredients and cater to vegans. There are three vegan pizzas on the menu, each with vegan cheese and various vegetable toppings. The pizza was cooked perfectly and it was super flavourful.
Organic Pizza Salzburg is open until 10:00pm, making it a great pit stop if you're looking for a late dinner or evening snack.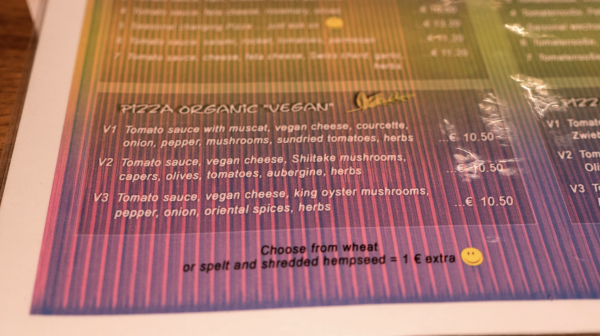 Day 3: Day Trip to Nearby Villages
Originally, we planned to travel to Hallstatt for the day. As I was trying to figure out how to get to Hallstatt from Salzburg, I realized you either had to take a couple of trains or a bus, and then hop on a ferry across, plus you had to return before a certain time with the risk of being stranded there. I wanted a little more flexibility with our day, so we decided to rent a car.
However, as we heard more and more that Hallstatt was overly crowded in the summertime, we explored some other options. With some advice from a local and some last minute research, Justin and I decided the day would be better spent travelling to some of the smaller, lesser visited towns for an equally awesome experience.
Plus, it happened to be my birthday that day, and all I really wanted was to witness some stunning Austrian scenery, no matter where we went.
yes, my wish was granted over and over again that day.
Here's an overview of a couple of Austrian villages near Salzburg that we visited.
 
Mondsee
Mondsee is a lakeside village with an adorable downtown with beautiful, brightly painted buildings. It's right on Lake Mondsee, so savour those gorgeous views of the lake with the mountains in the distance.
The most famous attraction in Mondsee is the St. Michael Basilica, as featured in The Sound of Music.
We walked around town, enjoyed a cup of coffee at a cute cafe, and wandered down to the lake. It's easy to see this town in a couple of hours, making it the perfect pit stop on a road trip of Austria.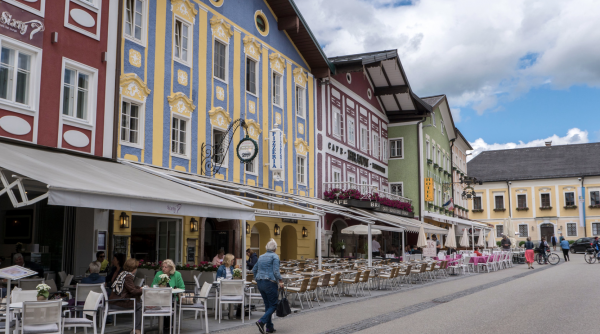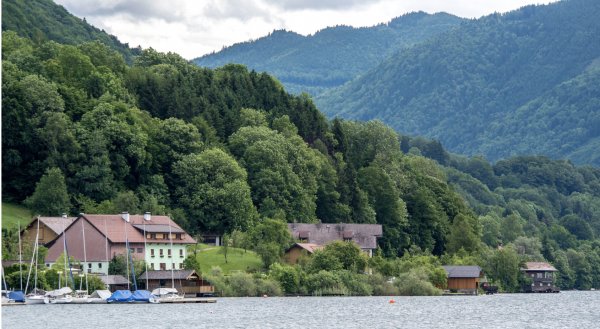 St Gilgen
Our next stop was St Gilgen where we embarked on a cable car ride up to the top of the mountain. Taking the Zwölferhorn Mountain cable car was the highlight of our day trip as the views from the top were spectacular. The ride itself was scenic and a lot of fun. Be sure to pack something warm to wear as it was chilly at the top of the mountain, even in June!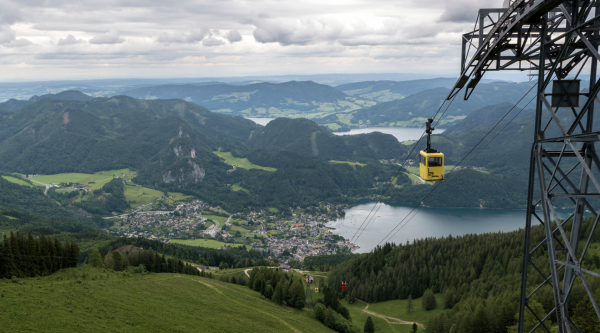 After the cable car ride back down the mountain, we explored the town of St. Gilgen, Austria. We browsed some local shops, had a bite to eat for lunch (we found some pasta with tomato sauce as this small town wasn't super vegan-friendly), and walked down by the lake.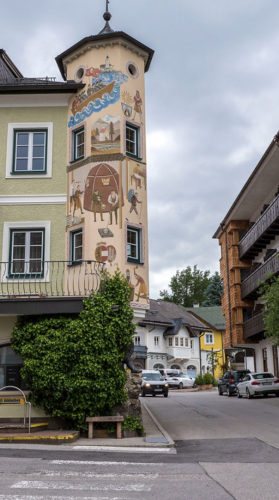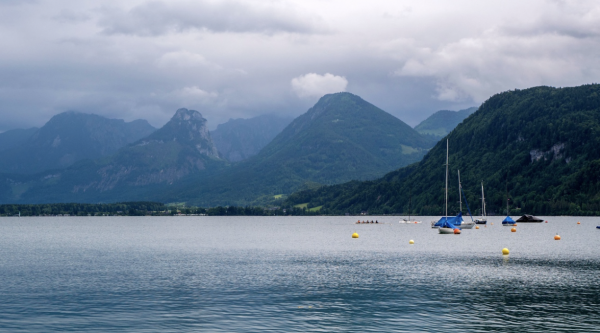 We returned to Salzburg, dropped off the rental car, and headed out…in search of birthday cake!
 
GustaV for a Birthday Treat
GustaV
Wolf-Dietrich-Straße 33
5020 Salzburg
GustaV is a vegan restaurant in Salzburg. While we didn't have the chance to eat a full meal here, I was thrilled to stop for cake and coffee. I ordered a red velvet latte (coloured red with beetroot juice) and a slice of their cake of the day, coconut cream. Both were melt-in-your-mouth delicious!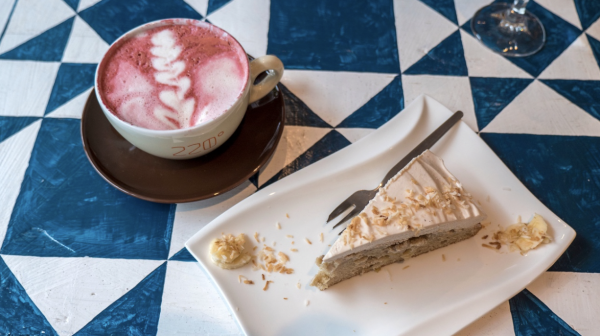 The Green Garden for Dinner
The Green Garden
Nonntaler Hauptstraße 16
5020 Salzburg
Later, we walked from our apartment to a vegetarian restaurant, The Green Garden. Even though I was following Google Maps, I still managed to get us twisted around and walking in the wrong direction. We climbed some stairs in an instance where we shouldn't have, but the diversion ended up providing us with a stunning view of the city. Sometimes mistakes can be a good thing.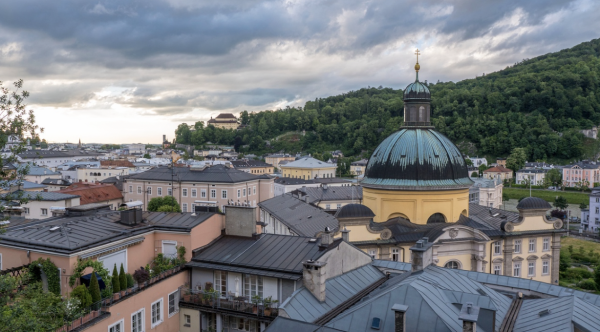 The Green Garden serves eggs and dairy, but the vegan menu choices are abundant and clearly marked. Justin treated me to an extra special birthday dinner. I started with a glass of lavender Prosecco that had a small flower in the glass.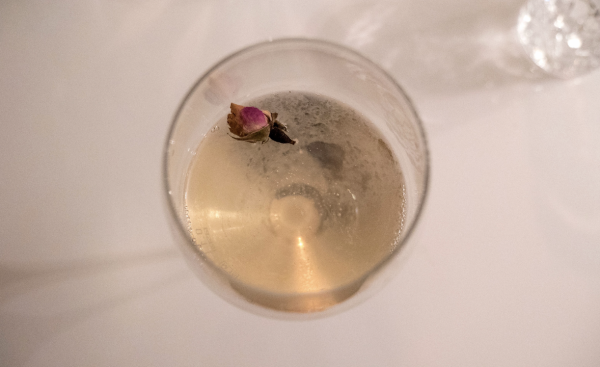 For my main dish, I got the vegan burger with homemade potato wedges and dip, which really hit the spot. Even though it was super filling, I couldn't skip the chance to have another dessert that day! I couldn't resist ordering the chocolate brownie with caramelized peanuts and ice cream.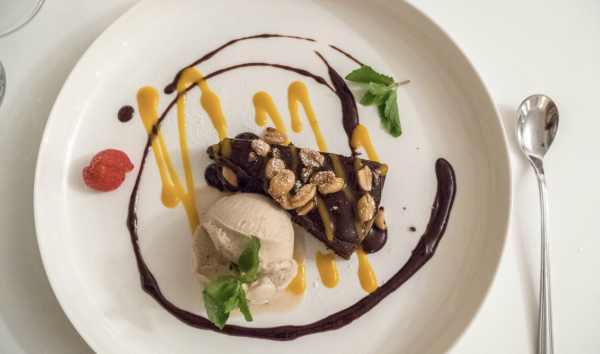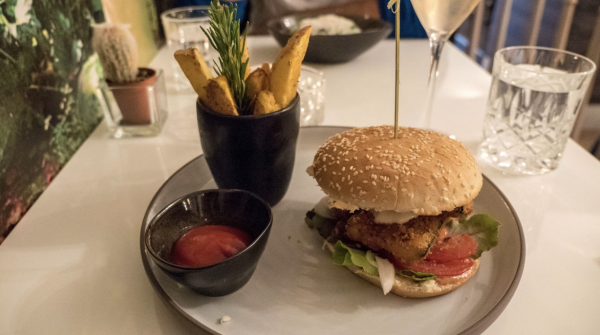 Bonus: Visit the Market
Bio-Bauernmarkt
Kajetanerplatz
5020 Salzburg
Before we left, I randomly stumbled upon the Salzburg Organic Farmer's Market. It only happens on Friday mornings, so it was very good luck that we happened to be there on a Friday. There are many vendors selling fresh produce, flowers, and other treats. While I didn't pick up any food or flowers, I managed to snag a couple of handmade vegan chocolate bars that were super yummy.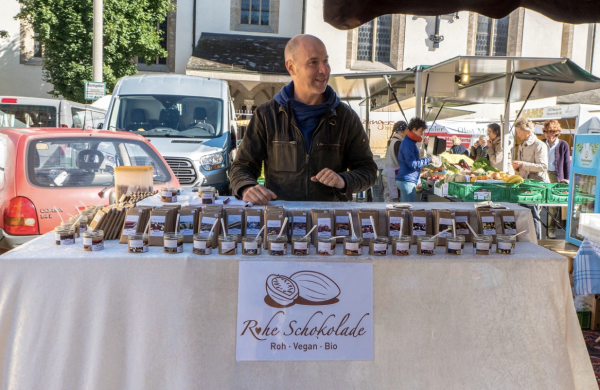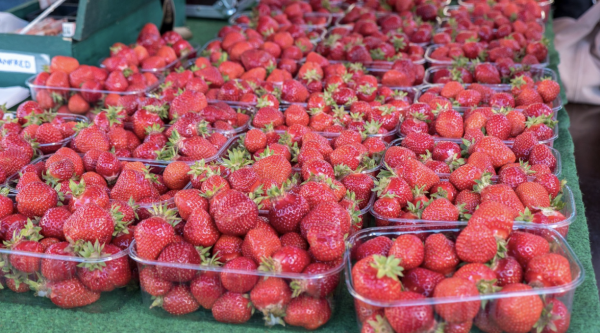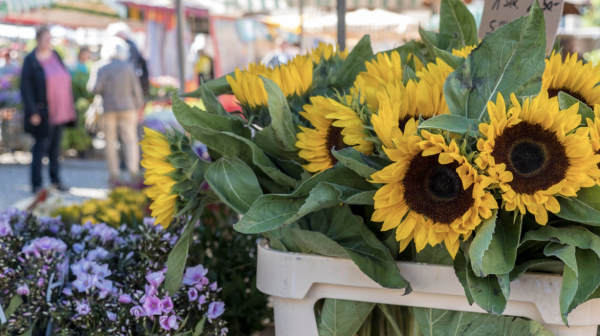 #ShareYourTravelStories #hutchgo1000TravelFund